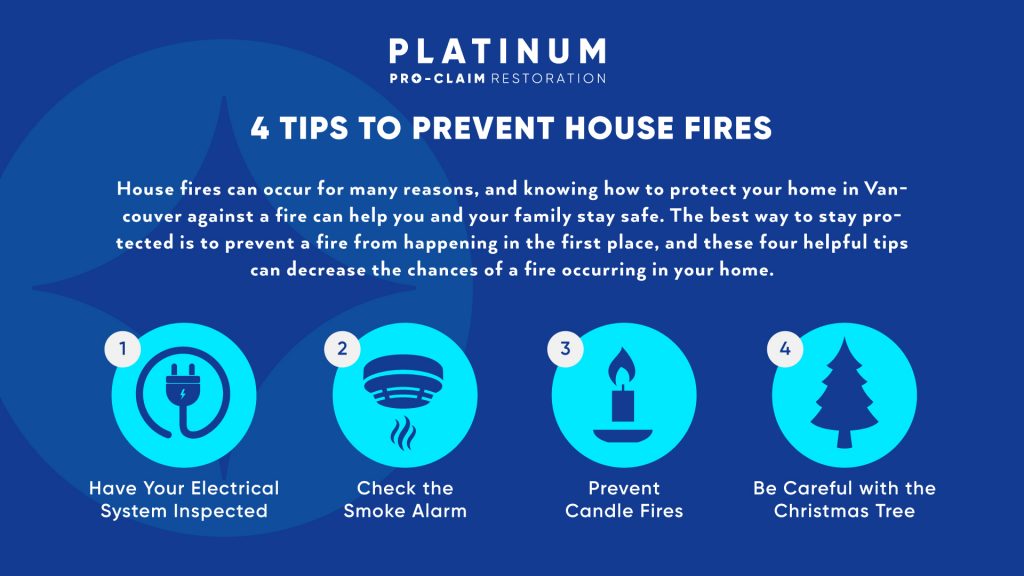 1. Have Your Electrical System Inspected
Wires, switches and other components of your electrical system that are old or otherwise damaged could spark house fires. By having your electrical system inspected by a knowledgeable electrician, you'll be made aware of the problems that should be addressed so that the proper measures can be taken to prevent a house fire.
2. Check the Smoke Alarm
Your home's smoke alarm should be in working order so that it can alert you when smoke from a fire is detected. You may not notice the smoke until the fire is bigger and getting out of control, and a working smoke alarm can help you take faster action. It's important to test your system at least a few times a year to ensure that it still functions the way that it should. You may also need to replace the batteries in your alarm so that it can work.
3. Prevent Candle Fires
If you light candles in your home for special occasions or just to create a more peaceful mood, you'll want to take certain precautions to safeguard your home against candle fires. Young children and pets should be kept away from candles, and you may need to store your matches or other lighters in a secure place to keep your children from using them in an irresponsible manner. You'll also want to make sure that the candleholders you use are of the correct sizes for your candles and that they are placed on surfaces that can resist heat.
4. Be Careful with the Christmas Trees & Other Plants
If you celebrate Christmas and choose to put up a tree, you should be aware of the fire dangers that your tree might pose so that you can take steps to prevent a fire. You'll want to choose ornaments that are made from flame-retardant materials and avoid overloading your electrical sockets to power your lights. If you have a real tree in your home, you'll want to water the tree regularly to keep it from drying out and creating an additional fire hazard. If you have plants around your house, it's also very important to make sure they stay well hydrated (if they dry up, they are more likely to catch fire). When you're disposing of a plant be sure to compost it or take it to your local recycling depot.
A home fire is often one of the most devastating events in life that a family can endure. By putting in the effort and investing the time to prevent a home fire, you'll have a better chance of avoiding major losses.